It's midweek, work is tiring and all you want to do is put your feet up, sink into a glass of wine and have a nice dinner when you get home. Pasta is perfect for those days when you really don't feel like doing anything but don't really feel like having take outs either. Let's face it, you can throw ANYTHING together with a handful of whole wheat pasta and make a delicious meal out of it. The trick is to add a good helping of vegetables to make it a wholesome meal. This recipe is one that I go back to time after time especially during this wonderful spring season when the weather is warm and meat sauces just seem to heavy. Zucchini and peas lend a refreshing amount of greens while cherry tomatoes, sausages and creme fraiche add a sophisticated touch for a simple yet delicious and healthy weeknight dinner.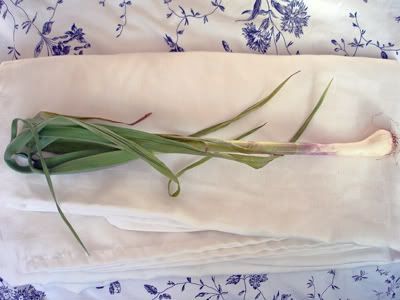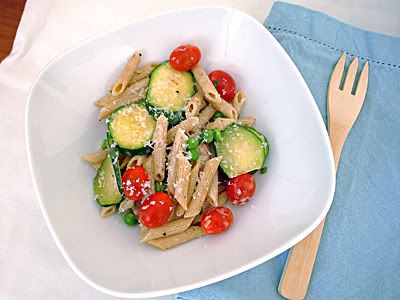 Penne with Zucchini, Peas and Sausages

Serves 2

4 oz. whole wheat penne
1 stalk green garlic or 1 whole garlic clove, minced finely *see note
1 mild Italian sausage link, sliced thinly on the diagonal (about 1/4" thick)
1 medium zucchini, sliced thinly on the diagonal (about 1/4" thick)
1 cup frozen peas
1 cup cherry or grape tomatoes
2 tbsp creme fraiche, mascarpone cheese or cream cheese
1 tbsp chopped fresh parsley
A generous helping of grated Parmigiano Reggiano
Salt and pepper
Extra Virgin Olive Oil

Cook the penne according to the directions on the package.

Meanwhile, heat a generous amount of the olive oil in a saute pan (I used roughly 1 tbsp) over low heat. Toss in the minced garlic and saute for a one minute and add in the sliced sausages. Brown the sausages for a few minutes and add in the zucchini. Sprinkle with some salt and turn the heat up to medium. Saute the zucchini and sausages until the zucchini is softened, about 5 minutes. Add in the peas. Cook for 1 minute.

Turn the heat down to low, add in the cooked pasta, creme fraiche, cherry tomatoes and parsley. Season to taste with salt and pepper. Turn off the heat and toss everything together to combine. Spoon out into bowls and serve with grated Parmigiano. Enjoy with a good glass of slightly chilled Chardonnay!

*Note: Green garlic which came in my CSA is like scallions but is actually the young stalk and bulb of a garlic. It has a milder taste than full grown garlic. If using green garlic, discard the yellow stalks and dark green leaves. Use the bulb and the light green parts of the stalk.