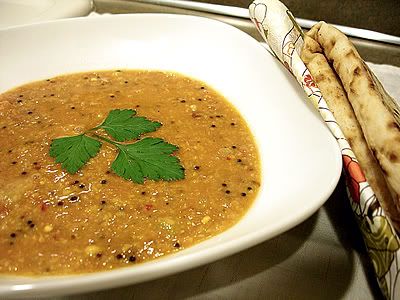 News alert: Dogs aren't really that cute. Especially if they're rascally dachshunds that have learned to jump up on your garbage bin and crawl across the counter to munch on half a pack of raw chorizo. They are NOT cute that way.
Indian food is one of the three staple cuisines I grew up with in Malaysia. Weekends were usually spend watching live football (to be incorrectly termed: Soccer) broadcasts at 3am whilst chomping on a traditional roadside Indian dish of dhal and 'roti'. That was of course, complemented by mugs and mugs of milky tea that were guaranteed to give you a tummy-ache hours later.
For some reason, the change of season has brought back rather strong urges for both football and dhal with 'roti'. I recently found out that the Seattle Sounders FC have signed on my once-upon-a-time favourite Arsenal player Freddie Ljungberg as the distinguished player for the club. So I figure I'll get an early headstart on the food part of the soccer night outs.
Dhal is usually made with ghee, a kind of shortening. I used vegetable buillion cubes and a small amount of vegetable oil instead to make this a healthy dish that you can serve with some store bought naan and a cup of milky chai. It works wonderful on a cold day, and lends a subtle spicyness to offset the chill factor.
Chana Dhal (Indian Lentils)

Serves 4

1 1/2 cups yellow split peas
3 cups water
2 big green chilis (Serrano or Hot Cherry works fine)
1 large tomato, cubed
1 medium onion
1 clove garlic
4 slices fresh ginger
2 tsp Garam Masala
2 tsp curry powder
2 tsp black mustard seed
1/2 cube vegetable buillion
Pinch of Red pepper flakes
Handful fresh parsley leaves
Salt to taste

Note: If your lentils are still tough, and you would like it to be softer - add in 1 heap teaspoon of baking powder. Likewise, you can use an immersion blender to pulse the lentils.

Soak the lentils in 4 cups of water for at least 2 hours, preferably overnight.

In a big pot, bring the lentils, water and a teaspoon of salt to a boil. Cover and simmer for 45 minutes. After 45 minutes, uncover and stir in the Garam Masala and curry powder. Let the pot remain simmering, uncovered.

In a separate frying pan, heat two tablespoons of vegetable oil and fry the garlic, onions, ginger, tomatoes, chili and black mustard seeds until fragrant, about 7 minutes.

Stir in the fried tomato mixture, red pepper flakes and vegetable buillion cube into the lentils and let it simmer for another 5 minutes until the lentils are thick. Remove the sliced ginger. Season with salt to taste. Serve garnish with parsley leaves.