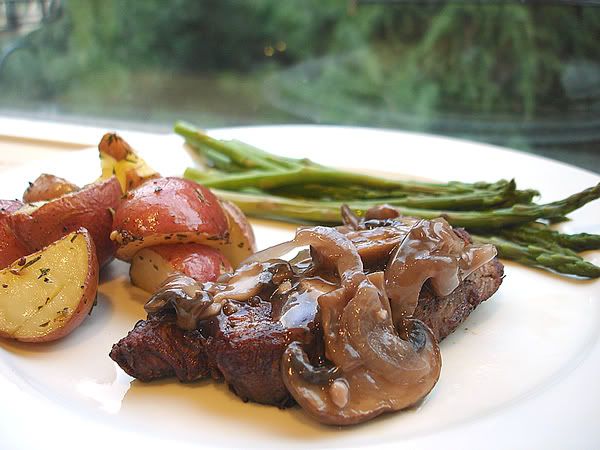 OK. So I made the title of this post sound grander than it really is, because all it REALLY is, is just steak with mushrooms and a bunch of potatoes. Arranged nicely of course, and served with half a glass of Cabernet Sauvignon on a shiny white plate, white tablecloth and pretty placemats. And it doesn't cost you more than $20 for the whole meal (depending on your choice of meat quality though).
I'm not a big steak person but I hauled my biscotti filled arse down to Pike Place Market today and went to Fero's Meat Shop to get the best possible beef tenderloin (USDA Prime! $41.99/lb! Eek!) for the boyfriend's romantic going away dinner (yes, we're disgustingly mushy, etc.). This recipe makes use of the heavy red wine we were going to have with dinner for the mushroom glaze.



Filet Mignon with Mushroom Glaze, Rosemary Roasted Potatoes and Asparagus


Serves 2
Prep time = 10 mins
Cook time = 30 mins

2, 4-oz filet mignon (USDA Choice or higher)
1/2 lb or 20 spears wild asparagus or gourmet green asparagus

Mushroom glaze
6 caps of crimini mushrooms, to yield 1 cup sliced
1/2 medium sweet onion, sliced thinly (about 1/4 cup)
1 tbsp chopped garlic
1/4 cup Cabernet Sauvignon or any other dry, strong red wine
2 tsp corn starch
1/4 cup beef broth

Rosemary & Garlic Roasted Potatoes
10 baby red potatoes, quartered
2 tbsp minced fresh rosemary
2 tbsp minced garlic
1 tbsp minced fresh parsley
2 tbsp butter
2 tbsp olive oil
2 tsp black pepper
Salt to flavour

Preheat oven to 350°F. Wash, scrub and quarter the potatoes leaving the skin on. Dry on a paper towel for 5 minutes. Combine in a large bowl with all the remaining ingredients and spread it out on a baking sheet lined with aluminum foil. Bake in oven for about 35 minutes.

Meanwhile, heat 1/2 cup water in a shallow pan, add about 1 tsp salt and toss in asparagus in a single layer. Cover and simmer for about 10 minutes until tender. Drain and leave in the pan to keep warm.

Season filets with a wee bit of salt and pepper on both sides. Spray the grill rack with olive oil and grill for about 9 minutes on each side, depending on thickness and desired doneness (is that even a word?). We used a gas grill, had a filet thickness of about 1 inch and liked it medium well done.

While the potatoes and filets are going, heat one tablespoon of olive oil in a skillet. Add in onions, garlic and mushrooms. Saute until mushrooms are brown, about 7 -8 minutes. Pour in wine and simmer for 1 minute. In a small bowl, mix together beef broth and corn starch. Pour corn starch mixture into the skillet and bring mushrooms to a boil. Let it bubble until the glaze turns thick.

Once potatoes are done, let it cool for at least 10 minutes before serving. Season asparagus with a few drops of lemon juice, serve mushroom glaze over the steak.