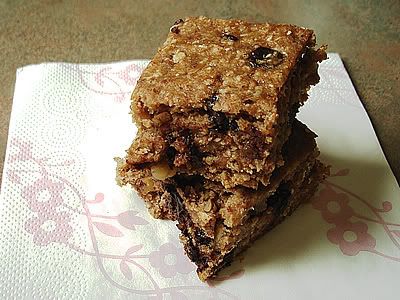 Now, don't get me wrong. I have absolutely nothing against vegans or the whole vegan agenda, I just like me some meat, lots and lots of cheese and more meat. Heck, my favourite meal is roast chicken with tons of beer! I also like calling vegan baking "eggless" instead of vegan - that's how much in denial I am about the positive side of veganism.
These "eggless" banana-walnut-chocolate chip bars are the best things I've had in a while, they actually taste like soft, moist banana brownies but without all the seemingly evilness of regular brownies. The recipe comes from a website called
Cookie Madness
(yikes!) and they have a TON of vegan baking recipes on there. These bars are really easy to make and would serve as energy bars or a healthy dessert with some vanilla ice-cream.
Eggless Banana Bars

Yields about 15 bars (2x3 inch bars)

2 large, ripe bananas (mashed)
2 tablespoons unsweetened applesauce
1 tablespoon ground flax
3 tablespoon hot water
2 tablespoons margarine or butter, melted and cooled slightly
1 tsp vanilla
3/4 cup whole wheat flour
3/4 cup old-fashioned oats
1/2 cup brown sugar
1/4 tsp baking soda
1/4 tsp ground cinnamon
1/2 tsp salt
1/2 cup dark chocolate chunks
1/4 cup chopped walnuts

Preheat the oven to 350°F.

Line a 8-inch square pan with aluminum foil and set aside.

Pulse the old-fashioned oats in a food processor until they look coarsely ground.

Mix the ground flax and hot water together and stir until a paste forms, this will be your binder. Set aside to cool.

In a large bowl, mix the flour, ground oats, sugar, salt, cinnamon and baking soda together.

In a separate medium bowl, mix together the mashed bananas, applesauce, ground flax mixture, melted butter and vanilla.

Make a well in the middle of the flour mixture and pour in banana mixture. Using a wooden spoon or a hard spatula, mix everything together until well combined. The mixture will be quite dry, make sure you mash the bananas well.

Add in the chocolate chunks and walnuts and stir to combine.

Spoon the batter into the prepared tin and bake at 350°F for 25 minutes. Cool in pan for 15 minutes, remove and cool completely on a wire rack.

Cut into 15 bars.