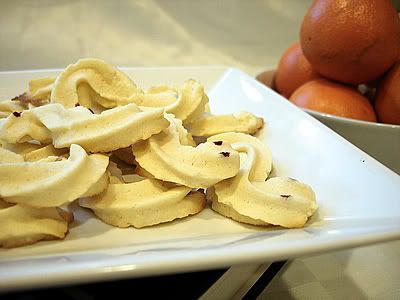 Chinese New Year falls on January 26 this year (I think). I'm not sure what zodiac year it is though. The year of the Water Rat? The year of the Brazen Ox? Dunno! But what I do know is that it gives me an excuse to bake some cookies I've been yearning for a long time now.
Dragon cookies or "loong (dragon) peng (cookies)" are sort of the Chinese version of spritz cookies, the melt in your mouth milky kind that you make once a year because it has the calorie content of an entire year's worth of dinner. It's
that
kind of cookie.
I don't really know if dragon cookies are a predominantly Malaysian-Chinese thing, but by jove, the entire world should know how good these really are. Did I mention that it's milky and melts in your mouth (not in your hands!).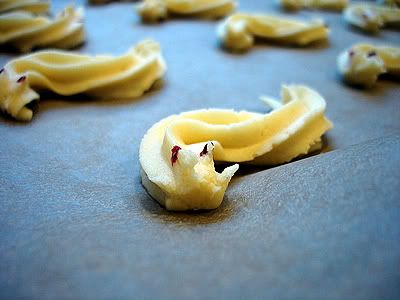 This recipe is from a friend of my mum's who makes cookies for a living. She makes the BEST dragon cookies and pineapple tarts, and my cookies only do half the justice. Some recipes I found online calls for 'cornflour' which is should not be confused with cornstarch, but I find that the combination of 'cornstarch' and all-purpose flour works just fine. Just make sure you use good butter at room temperature.
Dragon Cookies (Loong Peng)

Makes 35 cookies

1 1/4 cup all purpose flour
1/2 cup corn starch
2 tablespoon dried powdered milk
1 cup butter (about 2 sticks) - room temperature and soft
1 cup confectioner's sugar (icing sugar, powdered sugar)
2 egg yolks
1 egg white
1/2 teaspoon vanilla

Red food colouring (optional)
Pastry bag and star tip 22

Preheat oven to 350°F. Line two baking trays with parchment paper.

Sift flour, corn starch and milk powder in a medium bowl.

Make sure butter is at room temperature and very soft. Cream butter, sugar, eggs and vanilla together until smooth but do not over beat.

Gently fold in sifted flour mixture and beat until just combined.

Spoon batter into pastry bag fitted with a star tip (Number 22) and squeeze batter out into short zigzags (I like to call them little "squirrgles", wheee!) on the prepared baking sheets.

Dab two "eyes" onto the dragons using some red food colouring and the sharp end of a skewer.

Bake for about 10 minutes at 350°F. Make sure that the cookies don't brown and are still slightly soft when you remove them from the oven. Leave to cool on wire racks.

The cookies should last up to two weeks in an air tight container.