Bread recipes tend to scare me - mostly because I've heard all sorts of nightmarish stories about loaves that are as hard as brick, a black hole in the middle of the dough, rubbery textures that put a dog's chew toy to shame etc., etc. Also, I've always that bread making should be left up to French pastry chefs and Boudoin.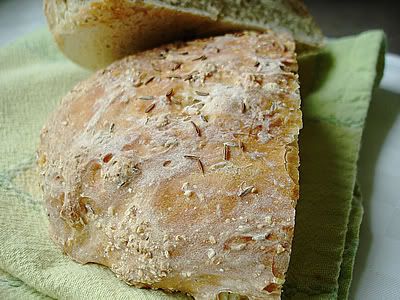 I very recently, however, stumbled upon this
really good site
(always strange when a young man likes baking) that had a great rye bread recipe that apparently required no-kneading. I wasn't so sure if it would work, the picture looked mercilessly appealing, and I knew, I just knew that if I could make my own bread, I wouldn't have to make that dreaded Saturday trip to fight with the masses at Trader Joe's.
This bread recipe goes marvelous with an olive oil dip or just some plain ol' good quality butter. It also goes well with curry, soup, sandwiches or just to munch on something while you start preparing the next batch!
Deli-Style Rye Bread


Makes 2 1 lb loaves. From Artisan Bread in 5 Minutes a Day on Pete Bakes.

1 1/2 cups lukewarm water
2 1/4 tsp yeast
2 1/4 tsp salt
2 1/4 tsp caraway seeds, plus more for sprinkling
1/2 cup rye flour
2 1/4 cups all purpose flour
cornmeal for sprinkling
cornstarch for cornstarch wash

1. Mix the yeast, salt and caraway seeds with the water in a large bowl. Mix in the remaining dry ingredients without kneading. Ingredients will be sticky. Cover with a towel and allow to rest at room temperature for about 2 hours. at this point, you can prepare the dough for baking or store in the fridge for up to 2 weeks*.

2. Dust the surface of the dough with flour and cut off 1/2 of the dough (Note: the dough is sticky, so make sure you dust your hands properly with flour). Dust the piece with more flour and quickly shape it into a ball. Elongate the ball into an oval-shaped loaf. Allow it to rest and rise on a cornmeal covered surface (pizza peel if you're going to transfer to a baking stone or a baking sheet if you're baking right on the baking sheet) for 40 minutes.

3. Preheat the oven to 450 F with an empty broiler tray on the shelf underneath the one you plan to bake on. Heat the baking stone up with the oven if you are using one.

4. Make the cornstarch wash by combining 1/2 tsp cornstarch with a small amount of water to form a paste. Add 1/2 cup water, whisk and microwave for about 60 seconds. Paint the top of the loaf with the cornstarch wash and then sprinkle on caraway seeds. Slash with a deep parallel cuts across the loaf using a serrated bread knife*.

5. Bake the loaf on a baking sheet or slide it onto the hot baking stone. bake for 30 minutes. As you put the bread in the oven to bake, pour 1 cup of hot tap water into the broiler tray and quickly close the oven door. Allow to cool before slicing or eating.

*If you've refrigerated your dough, you might want to let it cool down to room temperature before shaping it into a loaf.
* I don't see the point of making the slashes, unless you want your break your bread easily into slices. This step may be omitted.